SEO vs SEM: What is the difference?
SEO stands for search engine optimization, it is a technique marketer use to rank their website higher in search results to earn more organic traffic.
SEM means search engine marketing, Google Adwords paid per click is usually what people refer to, it is a form of paid advertising.
If you ask us, the worst mistake that you can make as a business owner is… Allocating too much of your budget on AdWords… and neglecting SEO!
Now, we get that AdWords is pretty much a dream come true for small business owners. After all, AdWords helps you expose your brand to a wider audience, drive traffic to your website, and ultimately, convert these folks into paying customers.  
Also, it's easy to measure your ROI with AdWords – and as long as the Average Order Value (AOV) each customer purchases outweighs your Cost Per Acquisition (CPA), you know you've got a profitable campaign on your hands.
Last but not least, there's also the fact that you can set up a campaign and have it up and be running in a couple of hours. For most people, generating their first sale or lead takes less than 24 hours!
When it comes to SEO, though, things aren't quite as straightforward. One of the most important things you need to know about SEO? It takes time.

Listen, if an SEO agency is pitching to you and they're telling you that they can guarantee a first page ranking on Google within 2 months, then run. Run like the wind.
Any SEO marketer worth his or her salt knows that it takes a minimum of 4-6 months before you start getting noticeable results… so if someone promises you that they'll help you increase your rankings within a suspiciously short amount of time, this means:
Either they don't know what they're talking about, or…

They're going to engage in black-hat techniques (these have frowned upon Google, and they might get you blacklisted.)
Another thing you need to know about SEO:
You've got to constantly experiment with new tactics and strategies. There's no resting on your laurels.
Now, let's look at the difference between AdWords and SEO (in this particular context):
When it comes to AdWords, the goal is to optimize your campaigns to get the most bang for your buck. We're talking low CPAs (or CPCs!), and high conversion rates. Sure, you'll have plenty of work to do, including setting up your extensions, putting in more negative keywords, and all that jazz…
…But once you're done, all you need to do is sit back and let your campaigns run. (You might have to tweak them every now and then, or pause a few campaigns and start other campaigns when certain seasons kick in, but that's about it).
With SEO, on the other hand, you don't have the luxury of taking such a relaxed approach.

Even if you're already listed on the first page of Google, you'll have to work to maintain that position. Say Google pushes out a new algorithm update which prioritizes item X, for example. Obviously, you'll want to optimize your website for X, to make sure you don't lose your highly coveted spot on Google's page one. At this point, you might be thinking:
SEO sounds like a huge hassle to deal with. Why exactly should I invest more time and effort into it? Can't I just spend all my budget on my AdWords campaigns?
So, here's the deal:
Yes, SEO is more challenging to manage, but it's also more sustainable in the long run.
Consider this:
Back in 2009, the average AdWords CPA was just $12.60.
In 2012, it crept up to $24.40.
And in 2016, it increased to $33.
With the cost of running an AdWords campaign increasing so rapidly, it's simply not feasible to put all your marketing budget into AdWords.
If you ask us, it's just a matter of time. Sooner or later, AdWords will simply become too expensive for small to medium businesses to afford (unless you're in a niche industry that doesn't have any dominant players).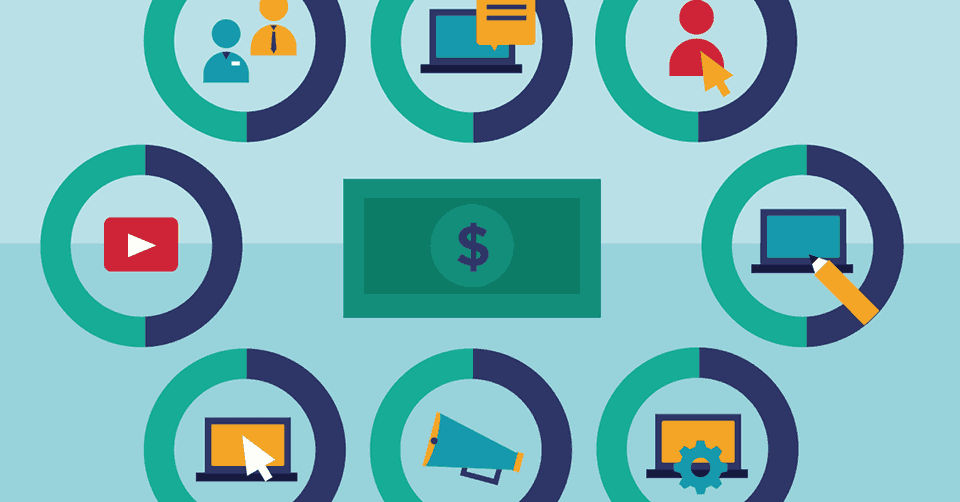 Image from Salesforce.com.
Now that you know this, you'll probably realize that the smart thing to do is to reduce your reliance on AdWords ahead of time and start exploring other options.
That's where SEO comes in!
By optimizing your website for SEO, you can have your website rank highly in Google's organic results, and drive visitors to your website that way.
But wait – doesn't AdWords listings appear on top of organic results? This would mean that getting ranked on top of Google's organic results still isn't as effective as paying for an AdWords campaign, right? Not really. According to statistics, 54% of internet browsers have never clicked on a banner ad in their lives – simply because they don't trust these ads.
On top of that, it's been estimated that a whopping 90% of ad clicks are done by automated bots and not human beings. Yikes! Doesn't that make the case for SEO more convincing?
Now, don't get us wrong – we're not asking you to kill all your AdWords campaigns immediately, and channel all your ad budget into SEO. You don't have to choose between one or another.
Instead, what we're saying is that you should dip your toe into the world of SEO, and start familiarizing yourself with it. At the same time, you can still be running your AdWords campaigns – there's no need to pull the plug on these.
Got it? Great!
Let's dive into a few SEO case studies, and get you inspired!
Generating 41,992 page views and $100k in monthly recurring revenue
In this case study, Emil of SnackNation managed to generate 41,992 page views when he first published an article on his company's blog.
The best part?
This wasn't a one-hit-wonder – even after the initial hype had died down, the article continued to generate a sizeable amount of traffic, leads, and sales for SnackNation.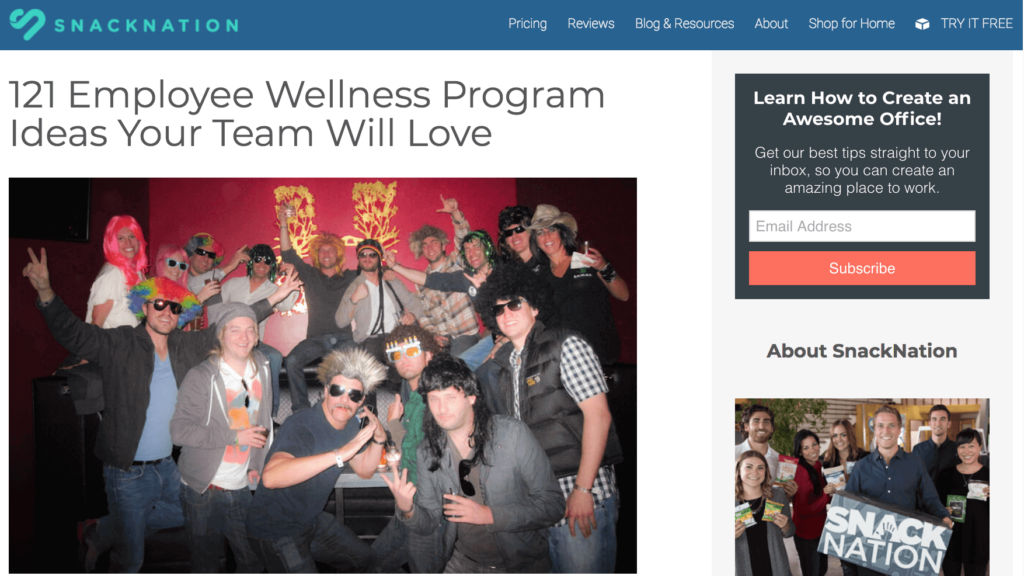 Image from Backlinko.com.
We're talking about 10,000 page views that the article amasses, every. Single. Month. And according to SnackNation, the boost in traffic that they get from this article drives over $100k in monthly recurring revenue. How insane is that?!
What's the secret sauce behind Emil's – and SnackNation's – article?
It's none other than… the Skyscraper Technique.
If you haven't heard of the Skyscraper Technique, it's basically the holy grail of search engine marketing. Think of it as your golden ticket to nailing that position on Google's page one!
Here's how it works:
First, you hone in on a keyword.
Now, this doesn't have to be 100% related to your company. For example, SnackNation is a healthy snack delivery service, and Emil quickly figured out that people rarely searched for keywords that involved their business.
Case in point:
The term "healthy office snack ideas" only generated 20 searches per month.
In contrast, the term "wellness program ideas" generated 480 searches per month.
Using the Google Keyword Planner, Emil realized that the folks who were interested in "healthy office snack ideas" were also likely to search for "wellness program ideas", and so, they decided to target the latter keyword instead.
Step two: look at what content currently ranks for your specific keyword.
Doing this simple. Just take your keyword and plug it into Google, and see what comes out!
Now, here's what the top results were back when SnackNation did this case study…


Image from Backlinko.com.
And here's what comes up when we do a search with the same keyword today:
Now, you'll notice that both SnackNation's search and our search turns up results with listicles. These are a highly popular format because they're easy to consume.
What's interesting, though, is that the listings in SnackNation's search seem to be less long-form than the ones in our search. Yes, there is one PDF file titled 101 Low-Cost Ideas for Worksite Wellness Programs, but apart from that, the other listings contain just 7 or 8 points per article.
With our search, though, we're seeing bumper-listicles which contain more points per article.
That's because people (like SnackNation, and you!) are coming in, challenging the current companies who are listed on Google's page one, and creating better content that will outrank them.
So once you've taken a look at the top few listings on Google, come up with a list of where these articles are lacking (and what you can do better).
Maybe those articles…
Feature walls of text, without using pictures to break it up

Are fluffy and non-substantial

Aren't written in a compelling manner

Aren't well-organized and structured
Now that you've identified the shortcomings of these articles, it's your turn to create something better!
With SnackNation, they decided to set their sights high, and they created a whopper of a listicle with 120 ideas on promoting worksite wellness.
Now, you might be thinking:
Man, that sounds like hard work. How are you supposed to come up with 120 ideas, all by yourself?
Well, you don't have to do it alone! Take a leaf out of SnackNation's book – they asked everyone in the office to chip in with ideas, and they also reached out to their partners, bloggers, and other experts.
Okay, fast-forward to the point where you're done fine-tuning your content, and you've just hit the "Publish" button.
What do you do next? Work on promoting your content!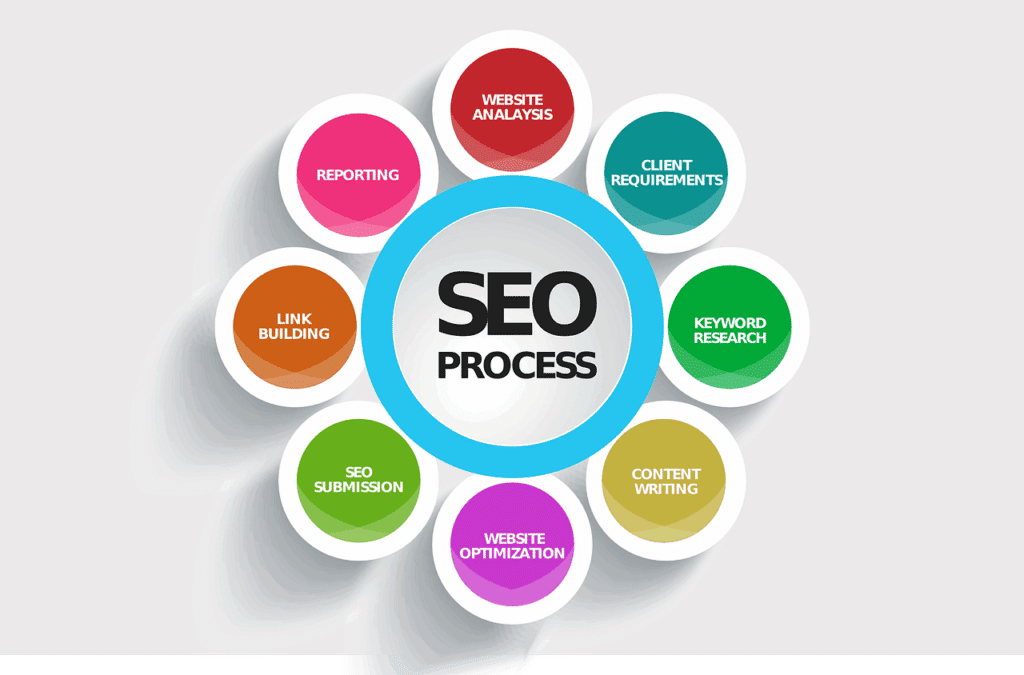 There are tons of ways you can do this, and here are some that worked particularly well for SnackNation:
Reaching out to influencers, and asking them to link to the article on their blogs

Asking people in your network to share the article (colleagues, clients, people you've collaborated with, etc)

Reaching out to brands that you've mentioned in your article, telling them that your article features them, and asking them to share the article

Asking your expert contributors (whose opinions you previously asked for!) to share and link to your article

Identifying the people who linked to the articles that are currently listed on Google's page one (in other words, the content you're trying to beat!), emailing them, and requesting for them to link to your superior article instead (This is an advanced tactic, and there's a certain process that you'll have to use. Check out the

original case study

, and Ctrl + F "get down and dirty with link building" to skip to the relevant section!)
If you do this right, you'll be able to generate a ton of social shares and backlinks.
That means more traffic to your website, more conversions, and more money in the bank!
0 to 100,000 visitors in 12 months
Here's a case study which is perfect for small companies who don't have much of an online presence.
In this case study, Andrew Dennis outlines the step-by-step process that he uses to build traffic for a brand-new site. He managed to amass 100,000 visitors in just 12 months, which is no mean feat!


Image from SearchEngineLand.com.

Now, Andrew talks about a lot of the same things we've seen previously in SnackNation's case study. You can't run away from things such as creating high-value, compelling content and securing backlinks to boost your website's visibility.
But to complement these activities that you're working on, Andrew also recommends this lesser-known strategy:
Establishing passive link acquisition channels.
Personally, we haven't seen any other SEO experts recommend this strategy, and we think it's pretty genius.
What Andrew did was to use high-quality, original photography on his website, and this presented the perfect opportunity to attract passive links.
Instead of copyrighting or watermarking his website's pictures, he put them up under a Creative Commons license which stated that other people could use these pictures on their own sites. (The only caveat was that they had to link back to the original source).
So every time someone used one of Andrew's pictures on their content, he'd get a backlink to his website. Pretty smart, huh?
Now, if you don't want to dabble in producing original photography, there are other ways to go about doing this.
For example… compiling original data or research!
This is fairly straightforward – assuming you have a database of users, all you need to do is shoot them a link to an online survey that you've put up. Once you've collated enough responses, go ahead and create a nice-looking infographic with the results.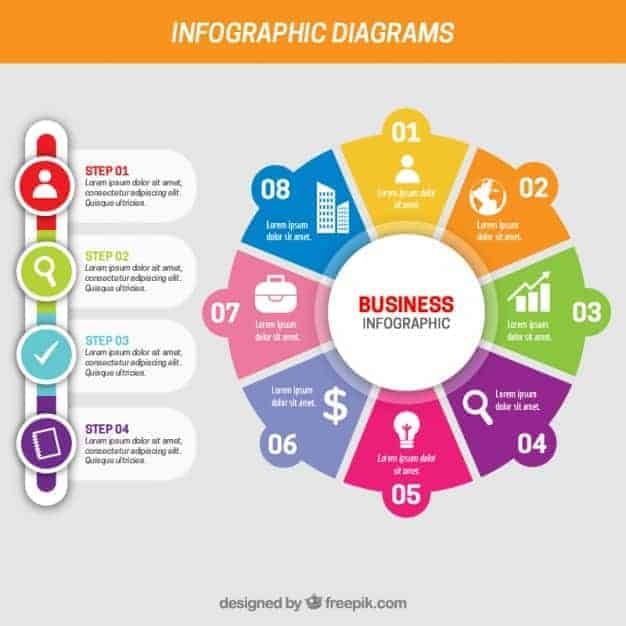 Image from FreePik.com.
(Psst: there are plenty of easy-to-use infographic tools out there, including Canva, Venngage, and Piktochart.)
Once you've done that, create a blog article talking about whatever you surveyed your users on, and be sure to make it as detailed as possible. (Include a ton of actionable tips!)
Assuming you distribute your content properly, other folks will start referencing your statistics and data in their articles and linking to you in the process. Neat, huh?
Before we move on to our last case study, here's one more tip that Andrew mentioned in his case study:
Constantly improve and update your existing content, and reflect this on your "Last Updated" post dates.
Let's say you Google "SEO best practices", and the first article you see is written in 2018. The second article, on the other hand, was written back in 2017.
Which would you look at first? You'll probably head straight for the 2018 article!
So instead of letting your content be edged out by newer articles, simply set aside some time to update your article every six months or so. You don't have to slave over completely re-working the article – just add some new statistics, make sure all the links on your article are still working, and you're good to go.
If you're in this for the long haul, your articles have to be evergreen. Keep that in mind!
11,065% more organic traffic in 6 months
In case you were wondering… that's not a typo.
In this case study by Michael of CopyTactics, he successfully brought his client 11,065% (not 11.065%!) more organic traffic in just 6 months.
That's not the end of the story. After producing that first (and highly successful) article, Michael used the same strategy and applied it to other articles on his client's website.
The results?
A mind-boggling 12,134% increase in organic search traffic.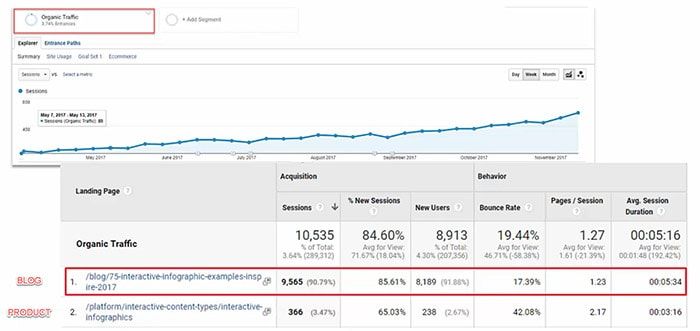 Image from RobbieRichards.com.
Now, the tactics used in this case study are pretty much similar to what we've already seen. Basically, it's all about keyword research, checking out the best articles (currently ranked on Google's page one), and coming up with content that's even better.
We're not going to run through the whole story, but let's jump to step four of Michael's process, which is to turn traffic into email subscribers.
As Michael points out, 98% of visitors leave websites without converting, and the average consumer needs seven touchpoints with a brand or product before they make a purchase.
So if the folks clicking through to your website and reading your article have previously interacted with your brand, that's great. You have a decent shot at converting them into a paying customer.
But what about all the other guys – the ones who are getting to know your company for the first time? They might not be ready to make a purchase yet, but you can nurture them so that they'll come back and convert in due time.
Now, the question is…
How do you get these website visitors to subscribe to your email list so that you can nurture them further down the road?
Use Michael's three-step formula, and…
Create a lead magnet

Set up a pop-up on your website

Set up automatic delivery
If this sounds intimidating and confusing, don't worry. It's actually pretty easy!
A lead magnet is just something that you offer to your visitors in exchange for their email address. Simple as that!
For example, if you're a company that sells cookware to consumers, you might offer a recipe eBook download. If you're a marketing agency who works with small businesses, you might offer them a checklist that they can use to guide their digital marketing strategy.
Most companies produce their lead magnets in a PDF format because this makes it easy to disseminate.
Next, go ahead and set up a pop-up on your website. If you have a tech team or a developer, ask them to get this sorted for you. If not, there are tons of online tools that you can use, including List Builder from Sumo.
Here's what your pop-up might look like:
Once you have your pop-up up and running, you'll also need to hook it up such that your visitor automatically receives an email (containing your lead magnet!) upon clicking "Submit".
Don't worry – this is easier than it sounds. Pop-up tools often allow you to set up a triggered campaign, and most email marketing software (MailChimp, Capterra, etc) have the same function as well.
Now that you have your prospect's email address, you can target them with more materials and promotions further down the road.
Now that's how you market your products or services the smart way!
Getting started with SEO
Now, as a business owner, we get that you have a ton of things on your plate, as well as a never-ending to-do list to grapple with.
That's why we're here to help!
If you want to get started with SEO, but simply don't have the time to do so, Seenlyst can do all the heavy-lifting from you.
We'll analyze the keywords that you (and your competitors!) are ranking for, come up with a list of recommended keywords to target, and create excellent content that will help you rank online. You won't have to lift a finger!
What if you already know the keywords that you want to target, and you just need some help in producing the type of quality content that will get you on the first page of Google?
Well, we can help you with that as well. We've got tons of expertise in creating substantial, in-depth articles, and optimizing these for SEO. You don't need to hire an extra headcount for your marketing team – simply outsource all that writing to us!
Take it from us – with PPC costs increasing every single year, there's really no time to waste.
So take the first step, and contact us for a free quote from our SEO services (we'll even throw in an SEO audit of your website).
Here's to getting on Google's page one!