You want to buy Bitcoin, Ethereum and other cryptocurrency in Malaysia, but not sure where to buy?
Cryptocurrency has been gaining more popularity in Malaysia for the last few years, I've noticed more and more friends and family members asking me where to purchase cryptocurrency.
So far I've seen people purchase Cryptocurrency such as Bitcoin in various way, but mostly on centralized exchange or P2P. There are also some people who went to shady website to purchase cryptocurrency which later turns out to be a scam.
In this post I'll show you where you can purchase cryptocurrency from regulated exchanges registered with Securities Commission Malaysia.
Why not buy Bitcoin from P2P platform?
Few years ago before the appearance of regulated exchange, most crypto are traded between enthusiast, usually can be found in Facebook groups, WhatsApp groups and Telegram groups.
However the issue is these groups are also targeted by fraudsters to scam people's hard earned money.
To avoid getting scam when buying Bitcoin or other cryptocurrencies, many people have choose to trade their cryptocurrency on escrow platform.
But these platform usually come with a fees, causing huge spread between buy and sell price, these platform such as:
LocalBitcoins – One of the oldest escrow platform, 1% fees imposed on the advertiser price for all trades, which create a gap of at least 2% spread between buy and sell price. The moment you bought Bitcoin here you already lose 2% of your capital to fees.
Remitano – A competitor of LocalBitcoins started with a fees of 0.5% but later increased to 1% as their user grow, a hard to use UI/UX, and low liquidity. Same price gap as LocalBitcoins with the same fees.
Binance C2C – Binance is a largest cryptocurrency exchange, they offered a subsection of P2P escrow services with 0% fees to attract people using their platform, however they've been banned by Malaysia government and they've now restrict user with Malaysia KYC from using their platform.
Aside from the expensive fees, and illiquidity of these P2P escrow platform, there's also a dangerous risk where the opponent trading with you are using shady bank account that were involved in illegal business or money laundering.
How it works is when you sell crypto, they pay you with the fund from these shady bank account with revenue from illegal business, then when you buy crypto with them, they receive your "clean" money into the other account.
Regulated cryptocurrency exchange in Malaysia
To find out the latest list of cryptocurrency exchange registered with Malaysia government, you can visit this page from Security Commission Malaysia website – LIST OF REGISTERED DIGITAL ASSET EXCHANGES.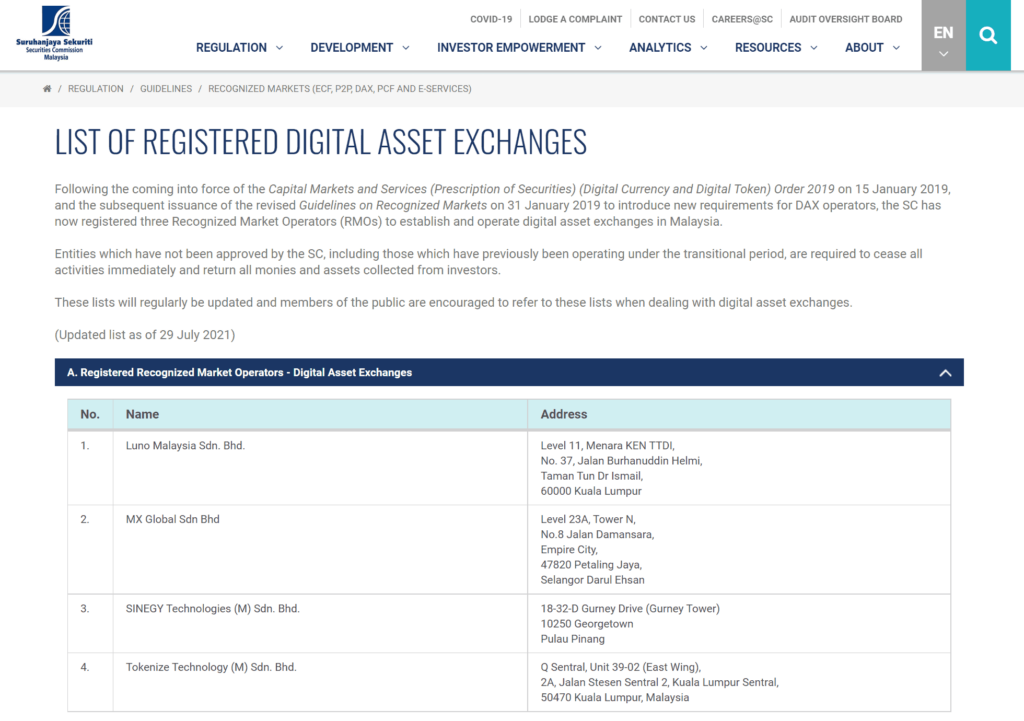 Personally, I recommend using Luno because it is having the most liquidity compared to the other listed exchanges, longer history of operation, plus a much more robust UI/UX.
If you haven't register with Luno you can use my referral link which give you additional RM25 worth of free BTC: https://www.luno.com/invite/MGT4Q
Luno come with a simple interface for buying Bitcoin, Ethereum and other cryptocurrencies, but they also have the standard exchange interface that shows the order book, you can use limit order with the exchange interface to limit you buy/sell price. (Simple interface is market order.)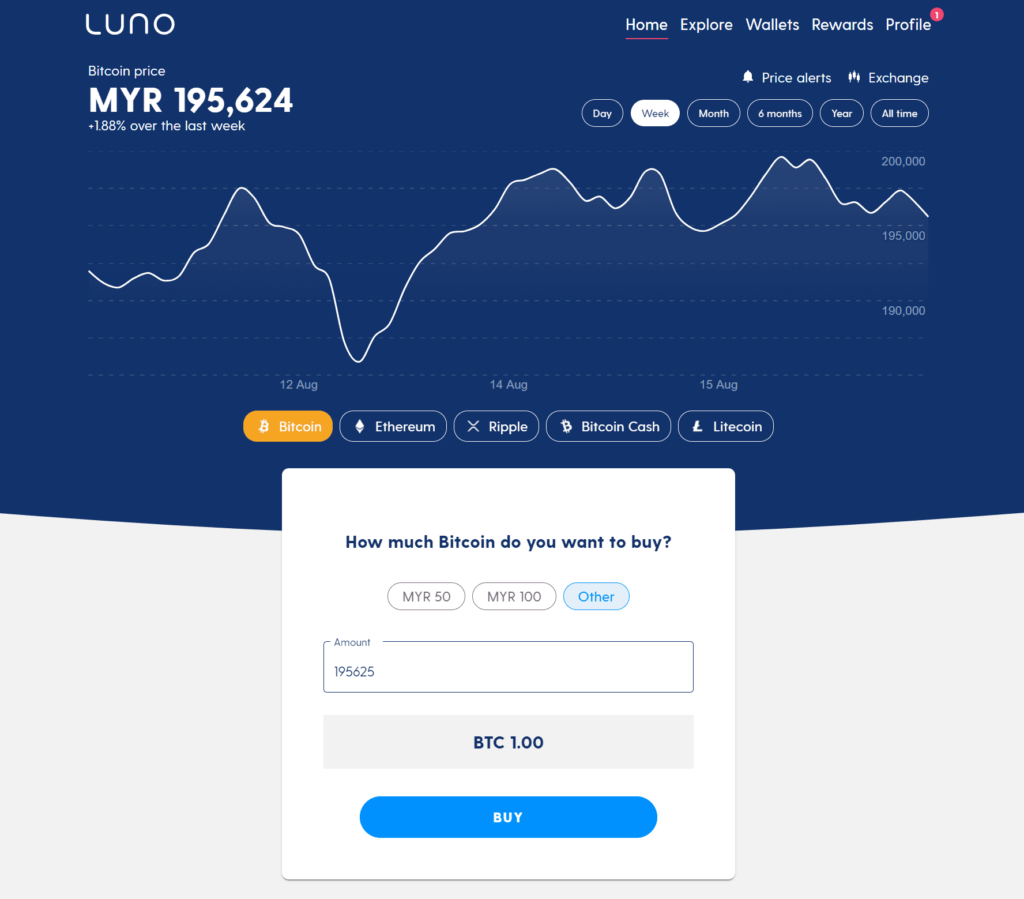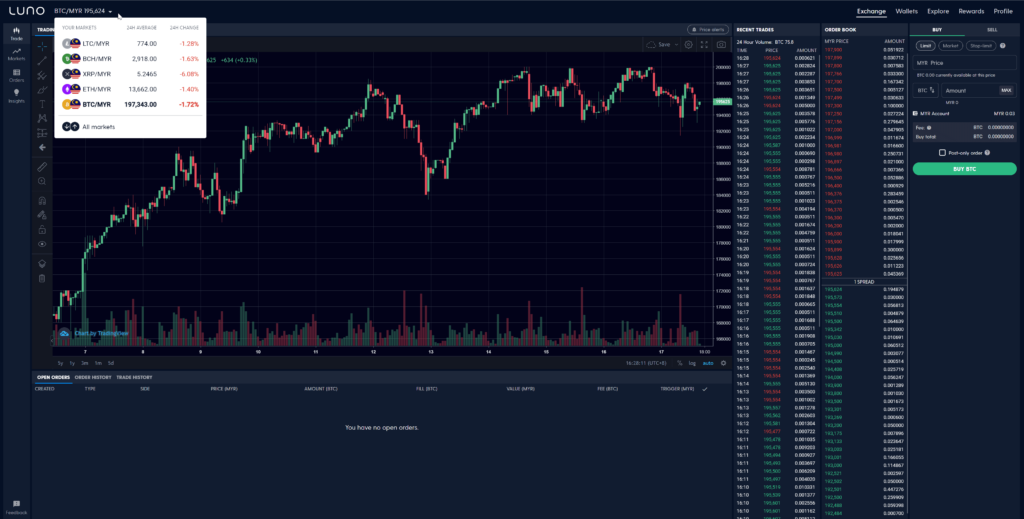 Avoid using unregulated exchanges and P2P platform
I've seen too many people fall into scam because of using platform that offer something too good to be true, such as below market price, no fees, or any other shady offer.
Using regulated exchanges registered with Securities Commissions Malaysia also protect yourself from receiving illegal fund obtained from revenue of illegal businesses, in some cases it can lead to your account being frozen and being investigate under Anti-money laundering act!
Finally, please be reminded cryptocurrency is a high volatility asset class, you should never invest the money you are cannot afford to lose.